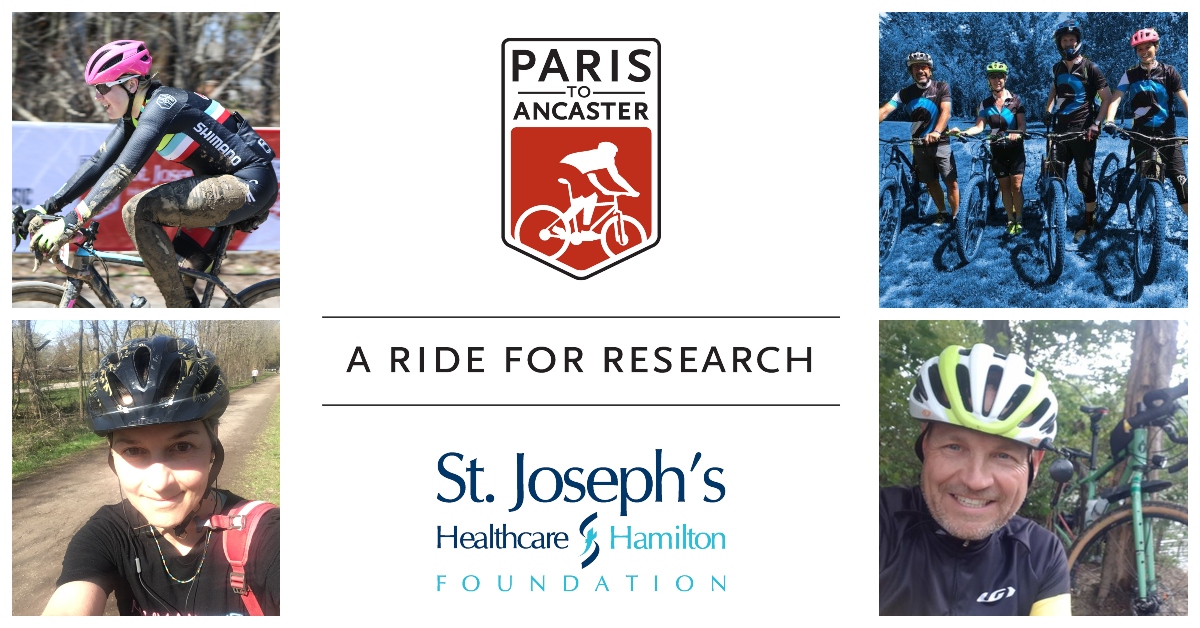 For the 7th consecutive year, St. Joe's is thrilled to return as the official charity partner of Paris to Ancaster: A Ride for Research. This classic and challenging cycling race aims to return to an in-person format on April 24, 2022, provided public health guidelines permit. We can't wait to welcome back our community of cyclists, fundraisers, friends and a soon to be announced Community Champion!
The Paris to Ancaster: A Ride for Research organizers are looking forward to putting on a safe event in 2022 and providing a distance that's right for everyone. The 20KM Family Ride is an excellent opportunity for a novice cyclist or family to participate. For more advanced and aspiring cyclists, the 45KM, 70KM and, new in 2022, 100KM distances will challenge you to conquer terrain including routes through farmers' fields and lanes, forest trails and gravel roads. Combined with unpredictable spring weather and a diverse field of riders, Paris to Ancaster has become a memorable race experience for everyone from average riders to Canadian Olympians.
To register to participate in the event, please visit the Paris to Ancaster website by clicking the 'Register' button below, or go to www.parisancaster.com. Registering to fundraise is a separate step, and you can sign up to do that by clicking on the 'Fundraise' button below. We hope you'll choose to take part in the race and raise funds to support groundbreaking research at St. Joe's. Health research has played a pivotal role in our community's fight against COVID-19 and so much more. With your support, our Hospital's researchers are creating a healthier future for all.
Please don't hesitate to contact us with any questions or for help to get your team up and running.
Your St. Joe's Events Team:
Mark Brogno – 905-522-1155, ext. 35976 or mark@stjoesfoundation.ca
Janine Belzak – 905-522-1155, ext. 32951 or janine@stjoesfoundation.ca
Adam Tillich – 905-522-1155, ext. 35973 or adam@stjoesfoundation.ca
A Partnership with the Power to Pedal Healthcare Research Forward
During this long-standing partnership between Paris to Ancaster and St. Joseph's Healthcare Foundation, nearly $335,000 has been raised to help fund research initiatives and the advancement of patient care at St. Joe's.
You did it for YOU. You did it for ST. JOE'S, and we are beyond thankful! We hope to see you back for an in-person event in 2022. Until then, stay safe, stay well, and keep riding!